Damaged teeth - whether broken or fragmented, do not just look ugly. They may also severely impact your functional capacity to chew and digest food. Installing fixed prosthodontics such as dental crowns and bridges allow for your tooth to be salvaged,
instead of extracted. To install these tooth prosthetics, the targetted teeth are first decreased in size. This adjustment means that an added protective covering layer can now be permanently fixed to the tooth.
WHAT IS DENTAL CROWN/BRIDGE? WHEN DO I NEED TO DO IT?
Dental Crowns:
Dental crowns are essentially caps placed over teeth like a helmet. They replace the damaged portion of the tooth. Dental Crowns are called indirect restorations, because they are fabricated in a laboratory, instead of being built in layers directly into the tooth, like a filling. The dentist takes impressions of the teeth, then the restoration is shaped to match the part of the tooth it will replace. The restoration is attached with dental cement. When you should do it:
* A filling (made of composite or GIC resin) may not be strong enough to repair the tooth anymore when a cavity has grown too large. The remaining natural tooth structure has been not supported for biteforce.
* To cover and re-contour an otherwise misshapen or discoloured tooth as a form of aesthetic treatment. A dental crown can help to restore both form and function in these situations
* After you have root canal treatment (Endodontics) done.
Dental Bridges: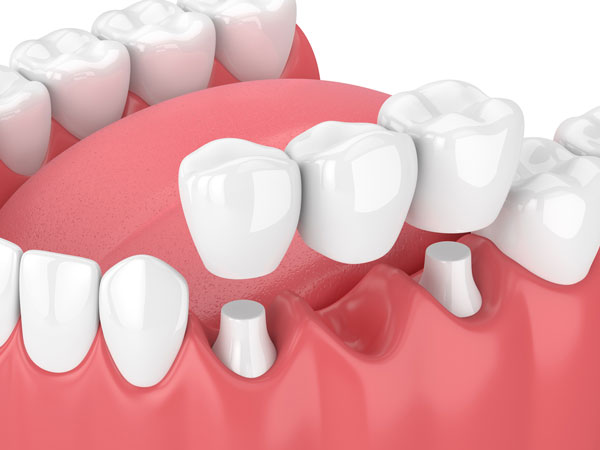 Unlike dental crowns, bridges are more a means of tooth replacement rather than tooth protection. A fixed bridge is a dental restoration that is attached to surrounding teeth. The bridge fills the gap left by the missing teeth, preventing the surrounding teeth from moving into the gap and becoming misaligned.
TYPE OF DENTAL CROWN/BRIDGE MATERIAL AT DR. TOOTH
Porcelain Fused to Metal (PFM)
Although it is more expensive than filling, but more durable and natural looking. A metal base is usually infused inside the porcelain dental crown. Depending on how this is executed, you may notice a sliver of darker colour at the base of the dental crown.
Full Zicornia porcelain
This is highly aesthetic as it looks just like natural tooth. It is hypoallergenic, and it does not contain any kind of metal, so it is an ideal choice for patients with metal intolerance. The material is strong and durable. Zirconia crowns are made in a special,
computerized CAD-CAM system.
Full Cercon porcelain
Actually, Cercon is the high-end zicornia porcelain, manufactured by Densply Sirona. Cercon provides the highest level of color accuracy based on our decades of know-how in ceramic shade-matching, our specially selected pigments and our own mixing and shade formulations – and that for almost all popular "open" milling units.
You can review our clinics here:

DR. TOOTH DENTAL CENTER – Huynh Thuc Khang Branch
Address: 90 Huynh Thuc Khang – Tan Lap - Nha Trang
Hotline: (0258)3515 788 - 0813 515 788
Business Hours: 7h30 – 18h30 (Every Mon to Sun).
Facebook

Google+/ Google Maps